Celebrate First In Flight: History of the Western North Carolina Air Museum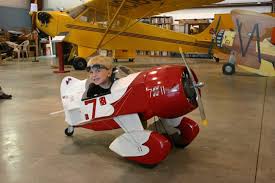 North Carolina promotes itself as the "First in Flight" because of the Wright Brothers flight at Kitty Hawk in mid-December 1903. Western North Carolina boasts the first museum dedicated to flight in the Western North Carolina Air Museum located beside the Hendersonville Airport. 
     According to the museum's website westernnorthcarolinaairmuseum.com, the museum was incorporated in August of 1989 in order "to preserve the Aviation heritage of North Carolina in general and of Western North Carolina in particular." The hangar that was to become the permanent home of the museum was completed in January 1993 and dedicated in May of that year. 
     The museum has several planes on display many dating back to the 1920's and President George H.W. Bush visited the museum on 5 September 1992 to see the Oshkosh Champion Stearman N2S-4. Planes such as the Stearman were used by President Bush and other pilots to learn to fly during WW II.   
     Hendersonville has a long history of aviation as the Hendersonville Airport has been around since 1932. The founding father of Hendersonville aviation, Oscar Meyer, founded the Hendersonville Airport in 1932. According to an article in Flying magazine in October 1978 Meyer started the Hendersonville Airport in a "cornfield in the little valley at Bats Fork." (p. 118). Meyer offered airplane rides and flying lessons and when World War II began, the civilian pilot training program took over the airport. In 1944, a fire leveled the hangar and the shops but it was quickly rebuilt. 
     In 1955 the Cessna airplanes came to Hendersonville and Meyer became a dealer for the Cessna's. In 1968, Meyer sold the airport to local resident and businessman and former student Robert Winkler.     
     I grew up about a mile from the Hendersonville Airport so I had a pretty good view of the occasional air shows and the planes coming and going. I also remember a crop duster in the late 1970's and early 1980's flying so low over my house you could clearly see the pilot. The crop duster was a bright yellow biplane and the crop duster flying over the house was a sign that summer had officially begun. 
     In June of 2015 I had the opportunity to go to the Western North Carolina Air Museum's Air Fair at the Hendersonville Airport and it was a lot of fun. The museum had an open house where you could see all of the planes in the hangar and the people associated with the museum were available to talk and share their knowledge of the airplanes. It was my first visit to the museum and I plan on going back June 4th and 5th of this year for their "It's Just Plane Fun! Air Fair, Fly-In, and Museum open house."